RBC 21. Leg 2. 29th May - 4th June. Harwich to Newcastle. 4 Regt RA
Saturday 29th May
Crew List as Follows: Skipper, Maj (Col) Tim Wordsworth; Mate, Capt Graham Stephenson; Crew, LBdr Mags Dolman, Gnrs Lilly Roberts, Elise Townsend and Reni Bureni.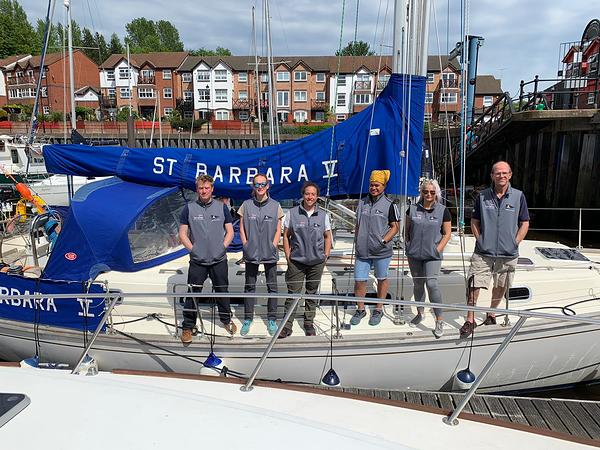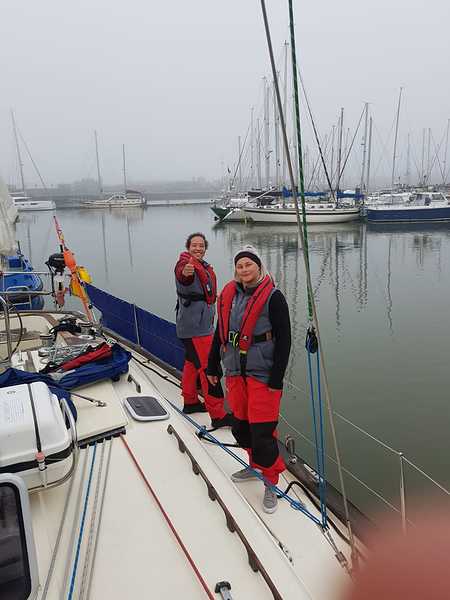 Sunday, 30 May
On the arrival at Ipswich we loaded all of our kit straight on to the boat where we were given a tour around St Barbara V, the very first couple of hours we spent learning all the different ways to maintain the boat from the inside out. All of us were mind blown with the amount of information we took in but it didn't take long to get a feel for the boat and understand how it worked.

Once we were settled and ready to set sail at around 14:30 we set off heading 45 miles up the coast to spend the night in Lowestoft.
Taking us around 11 hours we arrived in the harbour at 01:00 where we were able stay for the night.
Monday, 31st May
After a good nights rest we were getting ready to set sail overnight from Lowestoft to Grimsby setting off at 13:00. With a long journey of 102 miles ahead of us we took it in turns through the night, after a very steady sail we Arrived the next day at 10:00 in Grimsby, where we parked up we were able to have a good days rest, in preparation for the next day ahead of us.
Tuesday, 1st June
Round Britain Challenge Leg 2, Captain's Log, St[B]ar[bara] Date 03062021, Somewhere deep in the Tyne Tees Nebula
The crew of St Barbara continue to hold up well, despite all that this inhospitable part of the planet has to throw at them.
Having bedded down well on our journey north, as we escaped the gravitational pull of bright lights and decent Marina showers, late in the evening of Tuesday 1 June we found ourselves unceremoniously plonked alongside a trawler on our arrival in Scarborough. Beautiful little harbour it might be, but it is lit by myriad strange flashing lights and contraptions for the amusement of travellers. More disconcertingly, these temporary visitors display signs of abandon having seemingly been 'let off the hook' for a few days this behaviour is best illustrated by a desire to gorge themselves on crab sandwiches and donuts, washed down with some strange, unearthly looking multicoloured ice monstrosity. The younger members of the crew (one of whom was, herself, a 'traveller to this region' only last week), reliably inform me that none of it is harmful to the human constitution indeed they were at pains to convince me that the brightly coloured 'slushies' are to be coveted as methods of refreshment. Certainly, the crew did not hold back on their walk ashore and the cockpit was soon festooned with half empty plastic containers (and the odd fluffy toy, seemingly won at one of the flashing light spots).
All too soon, it was time to leave behind the attractions of what is clearly one of the region's holiday hotspots and venture deeper into uncharted territory as the crew broaden their knowledge of boat and self. Unfortunately, whilst we had sun, the weather was not kind to us and we had to engage the Iron Genoa for most of the morning until the promised breezes filled in. Having missed the narrow tidal gate for entry into the Whitby orbit, we decided to anchor off the beach for lunch. Here we witnessed even stranger traveller behaviour as the plucky British holiday maker refused to be bowed by the arrival of a clammy fog bank. They continued to frolic in the sea and on the beach no doubt warmed by their slushies, such was the temperature drop which accompanied the change in weather.
The good ship St B weighed anchor and continued on her way in a reasonable breeze, sailing well in the poor visibility, until we approached the Tees Port Traffic Control Scheme and the wind became very fluky. Here, smaller craft like ours must stay well clear of the behemoths turning to line up with a narrow entrance into the estuary. Easy enough when you can see them, but actually quite tricky when working off radar and AIS. Notwithstanding, St B acquitted herself well, earning the thanks of the Port authority for downing sails at one point and engaging maximum drive to be well clear of the zone before the arrival of one particularly large container ship from the Dutch nebula.
Having cleared the TSS, we arrived in the Scarborough Orbit ahead of time. The Marina is only accessible for craft such as ours, at High Water plus or minus three hours. That gave us an hour to burn, drifting in small circles in an eerily breezy, but extremely foggy bay. The more experienced members of the crew agreed it was the thickest 'pea-souper' they had ever sailed in. St B's radar has seriously paid for herself over the last few days. Miraculously, we then had a break and the fog lifted, exposing the wonderful vista of Hartlepool and the all important very narrow channel (between drying banks) which leads up to the lock. Within the hour, we were 'docked' with the Marina and the crew were ashore, taking a well earned beverage (or two for one) of brightly coloured, non-slushy concoctions with names that can't be printed here.
As I type this update, St B is ghosting her way deeper into the unknown as we close on our ultimate destination of the most inhabited part of this region, known as 'the Toon'. We are conserving fuel by getting the most out of our sails, despite a lack of true wind speed. The sun is out, we have 7kts of breeze and are just about managing to hold 3.5kts through the water.
I will report once again once we have had a chance to observe the habits of the locals in an area known as the quayside. Legend has it that they don't feel the cold and emerge semi-clad in all weathers to enjoy everything the area has to offer. Given that we are due to dock in the City Centre tonight, I have a sneaking suspicion we might be joining them (though I, for one, will be keeping all my clothes on).

Wednesday to Friday 4th June
I write this last missive from the comfort of a feather bed, in a fine old Northumberland Manse that has just come into the possession of the RAYC Training Officer - one RB Bolton. I am delighted to say that despite one or two transport issues, the relief Skipper and Mate arrived late yesterday afternoon and St B was handed over in good order, for the next leg of her trip around the UK. I will head south to complete my trip home shortly.
Before doing so, as I lie here reflecting on Leg 2, the overwhelming sense is one of achievement. Not only have we played our part in what will likely be one of St B's last great expeditions, but have all learned a huge amount about sailing and ourselves in the process. The novice team from 4 Regt RA is no more... in its place are four new RYA competent Crews who walked off the pontoon with a spring in their step, having completed over 300 miles of some of the most demanding sailing on the East Coast. The changes one sees over the course of such a week are palpable. Gone are the rather timorous movements about the deck, not knowing what to hang on to, let alone pull when one gets there. Instead there is a newfound courage to leave the safety of the cockpit when a job needs doing, regardless of the hostile conditions in which one finds oneself, coupled with a confidence that, working as part of a team, the job will be done quickly and efficiently for the good and benefit of all.
This is the essence of Army Adventure training and I count myself very lucky to belong to a Regiment that not only has the wherewithal to do it, in terms of proper blue water sailing boats, but the commitment to organise such a demanding expedition. I don't see it happening anywhere else in Defence At the moment and all those involved - from project staff to sailors, should be proud of their achievements.
We ended our trip with a cracking night in the bright lights of Newcastle City Centre, before getting St B stuck in the putty of St Peter's Marina a mile outside of town... putty which the almanac said should not have been there, but which gave rise to a classic comedy moment as the Marina Manager paddled around, pulling on ropes and moving boats so we might be shuffled back into (slightly) deeper water for the handover. It was definitely a classic moment that will add to the haul of experiences we all take away from RBC Leg 2... to be trotted out over a beer and a laugh with friends in years to come. Certainly the good burghers of the Swinburne Arms in Stamfordham appreciated its retelling last night when, I suspect, it got its first outing!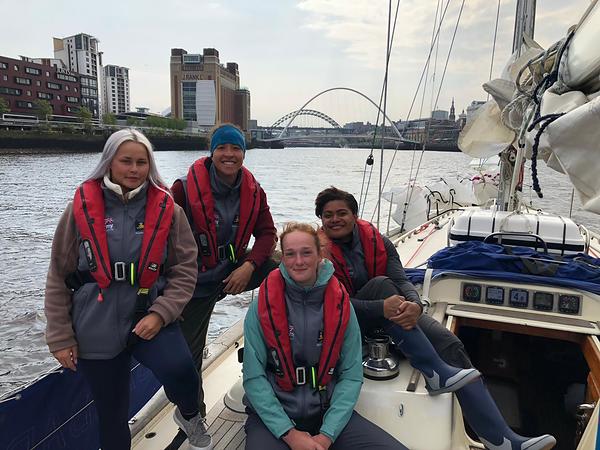 I'll sign off here by wishing Johnno and his crew the best of luck on their trip up to Peterhead. If they have half the fun we did, it'll be a trip to remember!