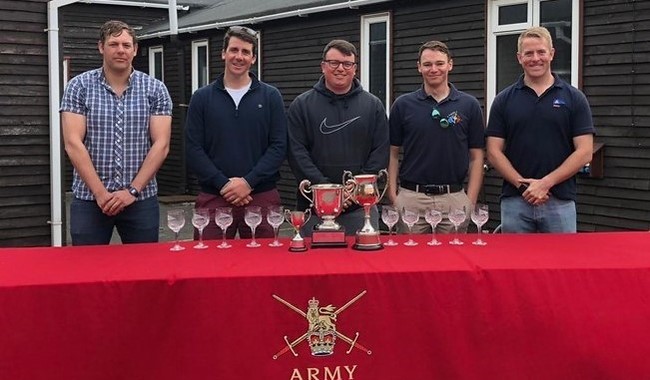 Army Offshore Regatta (AOR) Success!
The Royal Artillery Yacht Club entered Bombardier III skippered by John Johnson, and a Victoria skippered by Ed Middleton into the Regatta this year.
Bombardier III under John came second in the Dolphin Trophy, despite being pitted against 2 J109's and 2 First 40's.
The Victoria 34 Crew under Ed walked away with a 2nd in the Inshore Series and a 1st in the Offshore.
Well done both crews for excellent achievements and for bringing home the silver.
Latest news
Introduction The Marine Accident Investigation Branch (MAIB) Report on Report on the investigation of the keel failure and capsize of the Comar Comet 45 Sport yacht Tyger of London 1 nautical mile south of Punta Rasca, Tenerife on 7 December 2017 was published in October 2019. A copy of the Report is attached . The skipper, RAYC Commodore, Colonel Neil Wilson, and crew of St Barbara V which was 200m More »
Published 11:59 on 30 Nov 2019
We are saddened to report the death of Ray Gourd, long-time member of the RAYC on Friday, on the1st November 2019 aged 99. Having first joined the RAYC in 1951, Ray became a stalwart of Gunner Sailing, serving on the committee continuously for 35 years in the roles of Offshore Secretary, Rear Commodore (Offshore) and Vice Commodore, including 21 years as Hon Treasurer and as a Trustee. He was an RYA More »
Published 10:54 on 16 Nov 2019
Upcoming events
Jan

10

Mar

19

April

14-15

2 Day conversion Course provided by AISTC(S) To provide the appropriate

April

20-24

A bespoke 5 day training package to train Keelboat Helm

Apr

27

…

May

1

A bespoke 5 day training package to train Keelboat Helm

May

5-6

2 Day conversion Course provided by AISTC(S) To provide the appropriate

May

11-15

A bespoke 5 day training package to train Keelboat Helm

May

19-20

The 74th Annual Keelboat Regatta is to be held at