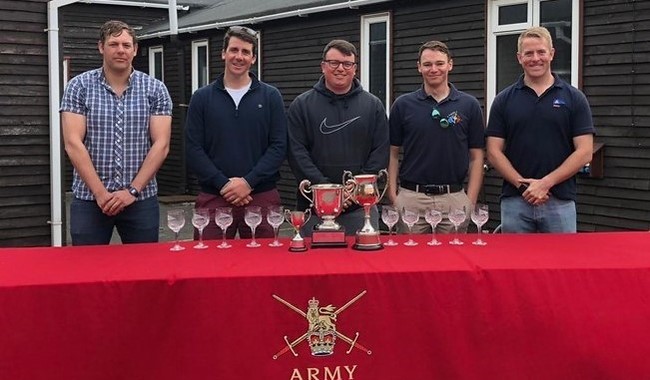 Army Offshore Regatta (AOR) Success!
The Royal Artillery Yacht Club entered Bombardier III skippered by John Johnson, and a Victoria skippered by Ed Middleton into the Regatta this year.
Bombardier III under John came second in the Dolphin Trophy, despite being pitted against 2 J109's and 2 First 40's.
The Victoria 34 Crew under Ed walked away with a 2nd in the Inshore Series and a 1st in the Offshore.
Well done both crews for excellent achievements and for bringing home the silver.
Latest news
The RAYC Executive and General Committee meeting at the Packway Mess on Friday, 18 th October was the inaugural meeting for our new Admiral, Lieutenant General Richard Nugee.As an active member of the Club and a previous Commodore he needed little induction to the RAYC Committee. His first Admiral's responsibility was to say farewell to our current Membership Secretary, Major Bill Ross, who has made a handsome contribution to Gunner Sailing over a long-time More »
Published 19:38 on 20 Oct 2019
The results are in for the Offshore Regatta: Bantry Cup - Chris Copeland Nawadzada Cup - Nick Nottingham Bhopal Trophy - Ben Archer Morgan Trophy - Chris Brown Admiral's Cup - John Johnston 12 Regt Golden Jubilee Trophy - Adrian Parry 16 Regt Solent Trophy - Alex Bird More »
Published 18:31 on 13 Sep 2019
Upcoming events
Jan

10

Mar

19

May

19-20

September

4-6

Online applications will be open in a couple of weeks.